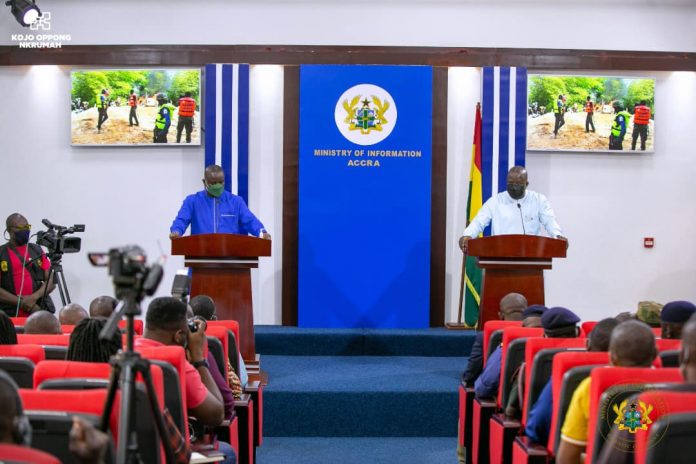 Government has renewed efforts to bring an end to the illegal mining menace otherwise known as "galamsey" in the country.
According to the Minister for Defence, Hon Dominic Nitiwul, the fight against galamsey needed reinvigoration and Government has accordingly ramped up efforts to protect Ghana's water bodies and forest reserves from the activities of small scale miners.
The Defence Minister gave the assurance at a press briefing in Accra today to deliver an update on measures against the activities of illegal miners.
Speaking specifically on security deployment into galamsey endemic areas, Hon. Nitiwul noted that 200 military personnel have been dispatched to patrol and flush out illegal miners. He said the military men thus far have seized and in some instances destroyed 9 excavators, 127 changfans and 1 fuel pump under the code name "Operation Halt" stressing that the armed military men were staged in these areas to take action against whoever returned to site.
"This operation will be conducted on all major river and forest reserves in all galamsey endemic regions throughout the country to rip them of illegal mining activities. There will be aerial patrols at places where the Ghana Armed Forces has also swept past. Armed men would be authorized to take immediate action on anyone who returns to these river bodies to engage in galamsey activities," he said.
He underscored government's resolve to end illegal mining stressing that government would not watch unconcerned as the illegal activities polluted the country's water bodies.
On his part as sector Minister for lands and Natural Resources, Hon. Samuel Abu Jinapor called for an all-hands-on-deck approach to ending the activities of small scale miners in the country. He emphasised that the country needed a broad based national effort from all corners to root out the illegal activity.
"It is about time that we have a broad base bi-partisan national conversation about illegal small scale mining. Anybody who is familiar with the extractive industry across the world, knows that the problem of illegal mining in the country can be brought to an end if we start to have a national dialogue around it," The Lands and Natural resources Minister added.
He reiterated government's directive to the Minerals Commission to desist from processing or granting any request for the renewal of prospecting licenses in forest reserves as parts of a systematic process to ending the menace.
Source: MOI (PR Unit)