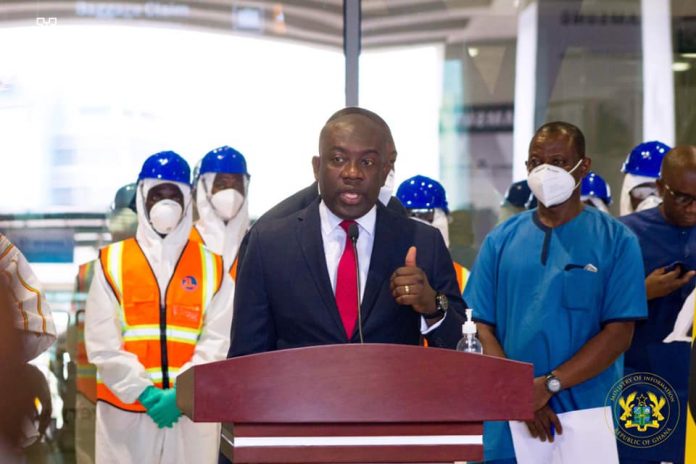 The Minister for Information, Kojo Oppong Nkrumah has assured that Ghana remains committed to maintaining warm relations with Nigeria. He made the remarks following allegations by the federal government of Nigeria that some of its citizens were being harassed in Ghana.
Speaking at a press conference in Accra on Monday, the Minister noted that the government has begun engagement with its Nigerian counterpart to resolve the recent disagreement between the two West African countries.
"We remain committed to the maintenance of warm relations with all sister nations particularly, for well-known historical reasons with the Federal Republic of Nigeria and Ghana is proceeding to engage the federal government of Nigeria with the view to resolving comprehensively and exhaustively any matters that have the potential to soar the relations between the two countries and those engagements have started.
"But at the same time we believe it is important to set the record straight on some of the accusations and that is why we have provided a full detail of the accusations that have been made against Ghana and our responses there in and we are optimistic that, that diplomatic conversations would ensure that the fact are laid bare and that the cordial relationship between Ghana and Nigeria continues," he added.
It would be recalled that the government of Nigeria had in a statement that was released last Saturday said it would no longer tolerate the incessant harassment of its citizens in Ghana and the progressive acts of hostility towards the country by Ghanaian authorities.
The statement that was signed by the Nigeria Minister for Information and Culture, Lai Mohammed, noted that the Nigerian government was urgently considering a number of options aimed at ameliorating the situation.
However, responding to the claim, Mr. Nkrumah denied any act of hostility towards Nigeria and its citizens in Ghana as alleged by the federal government. He said, that notwithstanding, the government of Ghana in line with diplomatic principles would develop immediately a framework for validating claims of ill treatment of Nigerian citizens and ensure citizens enjoyed the full exercise of their rights, while respecting the sovereignty and laws of Ghana.
Source: MOI (PR Unit)